Movie mistakes in Bohemian Rhapsody: 17 facts the Queen biopic got totally wrong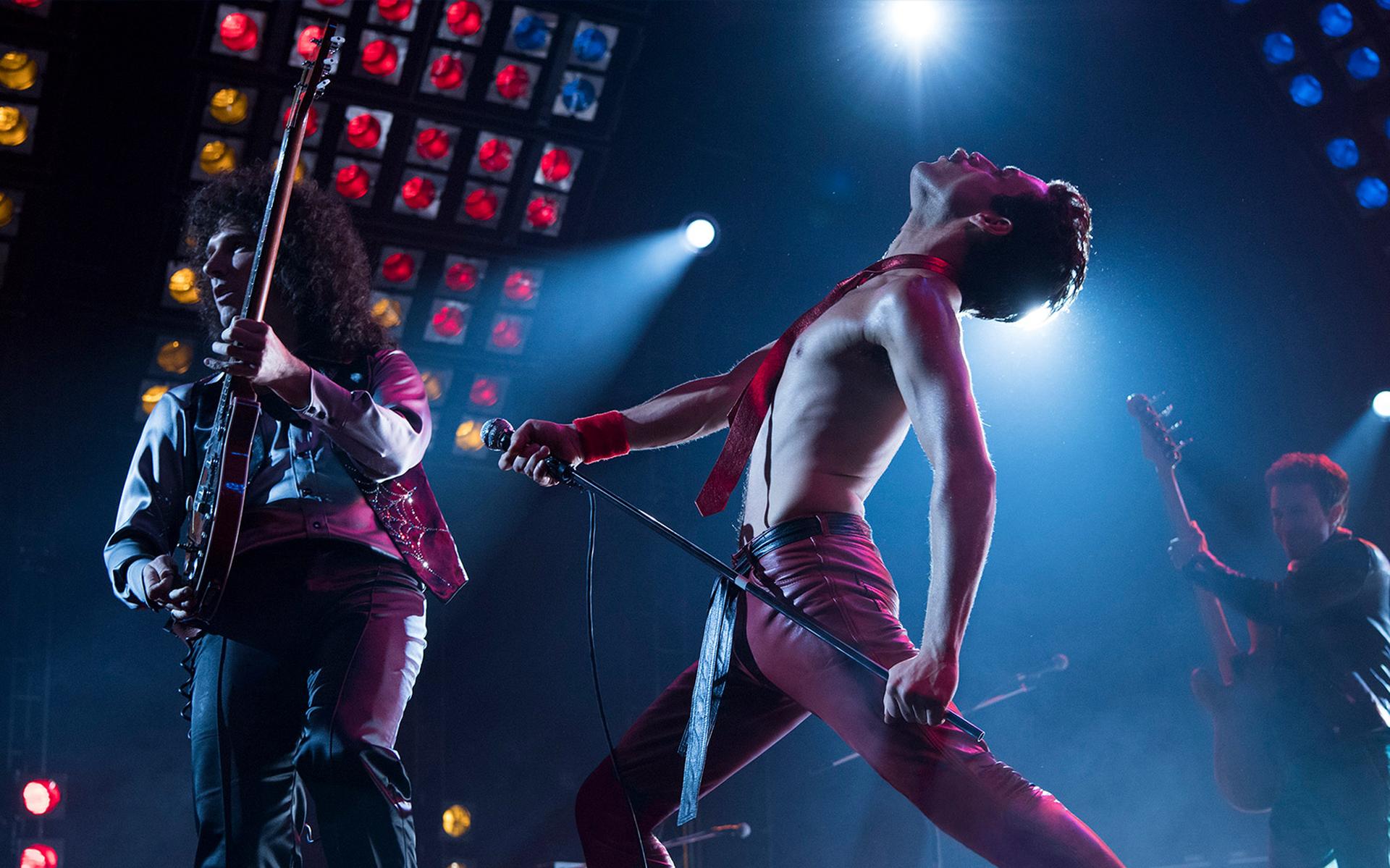 Queen biopic Bohemian Rhapsody is a world wide hit, but exactly how accurate is the movie about the iconic band? We've spotted 17 goofs you (probably) missed. Spoiler alert: make sure you've seen the movie before reading on.
1. Freddie Mercuy wasn't diagnosed as hiv-positive until two years after Live Aid
 No doubt, Freddie Mercury telling his fellow Queen members he is hiv-positive during the rehearsals for Live Aid (1985) is cinematic gold. In reality, Freddie hears the fatal news in 1987, and only later informs his fellow band members about it. He wants to keep his personal life and problems to himself and wants no pity, and especially would hate it if people would buy Queen albums for that reason. Not until 23 November 1991 does he issue a public statement saying he has Aids. One day later, he dies.
2. Freddie met his partner Jim Hutton years earlier than the movie suggests
Jim Hutton is Freddie's partner during the last six years of his life. While it is true that they met in 1985, Hutton did not serve food at one of the extravagant parties Mercury prided himself on. In reality, Hutton was a hairdresser, and they met as early as 1980 at a gay club.  Hutton refused the drink offered to him by Mercury, having no clue he was the famous Queen frontman. A year and a half later they met again, at a nightclub. Mercury offers Hutton a drink again, and this time, he accepts.
3. Fat Bottomed Girls wasn't written yet when the band first toured the States in 1974
New manager John Reid arranges a series of concerts in the United States. In the movie, Queen fires up the stage while performing the classic song Fat Bottomed Girls. That song is from 1978 and thus had yet to flow from Brian's pen when Queen toured the States for the first time in 1974.
4. Mercury did not have his iconic moustache when he came up with We Will Rock You
Brian May is impressed by the way the audience interacts with Queen (from the very beginning, that is Freddie's explicit goal, because until that time audiences only screamed through the songs performed, as can be seen in footage of The Beatles). He has an idea for a song, he says in the movie. He stamps his feet two times and claps his hands on the third count. We Will Rock You is born . In the movie, Freddie already sports short hair and a moustache then, the way in which he only started expressing himself in the early 1980s. And thus not in '77, when Rock You was released.
5. Freddie Mercury did not meet Brian May and Roger Taylor in 1970
In the movie, Mercury meets Brian May and Roger Taylor in 1970, on the night when singer Tim Staffel leaves their band Smile for Humpy Bong, a band he believes has a brighter future ahead of it. May and Taylor are impressed with Freddie's voice and let him join the band. In reality, Staffel and Mercury had already been friends since the late 1960s, when they met at the Ealing College of Art. Moreover, Mercury and Taylor had been running a market stall together selling hip secondhand clothing in Kensington Market, long before Queen even existed. Incidentally, one of their customers was David Bowie, whom admirer Mercury gave a pair of glitter boots for free.
6. Mercury and Mary Austin met in a boutique
In the movie, Mercury meets the love of his life, Mary Austin, after a Smile concert. They fall for each other right away. In reality, this happens in 1969, at the boutique where the then-19-year-old Austin works. If it even were love at first sight, it took Mercury a half year to ask her out. Brian May, who was dating her at the time, stepped aside.
7. Box in a box in a box in a box
It is true that Mercury asks Austin to marry him by giving her a ring. In the movie, that ring is in a blue box. Small detail, in reality that box was hidden in a larger box, which was in an even larger box, which was yet again in a larger box, etc… She said 'Yes, I do', but it never came to a wedding.
8. Freddie Mercury was not at odds with manager John Reid
In the movie, Freddie Mercury throws manager John Reid out of a car in the early 1980s  when Reid suggests Mercury should go solo. In reality, Queen and Reid had already parted ways in a friendly manner in '77, when Reid had been their manager for three years and his contract had run its full term. It was in fact the manager before Reid, Norman Sheffield, who had been a thorn in the band members' sides. In spite of their successes (such as the number two hit Killer Queen , released in 1974), they had to live on 20 pounds per week. In the meantime, their manager drove a Rolls Royce, which in 1975 seduced Mercury to write the song Death on Two Legs ('You suck my blood like a leech … You've taken all my money and still want more').
9. The movie version of Seven Seas of Rhye is actually from Queen II
In 1973, Queen enters the studio to record its first album. The band doesn't have any money, but it may use the Trident Studios during nightly hours. It is there that they record Seven Seas of Rhye, according to the movie. In reality, only a short instrumental version of the song ends up on the '73 album. Queen II , which was released in 1974, contains the movie version of Seven Seas of Rhye , the band's first hit single.
10. Queen was a well-oiled machine before their Live Aid performance
 In the movie, Queen is on its last legs in 1985, after Mercury has gone solo (Mr. Bad Guy). They have to practice like maniacs not to look like fools during Live Aid. This is very far from the truth. In 1984 the album The Works is released, with giant hits like Radio Gaga and I Want to Break Free. To promote the album, Queen tours around the world for nine months, until May 1985. During that period, the band gives 50 performances, the high point of which is at Rock in Rio where 325.000 fans attend the concert. Queen is a well-oiled machine and the absolute highlight at Wembley on 13 July 1985.
Queen at Live Aid: the original footage.
11. The band did not actually split up in 1985
Freddie's solo escapades leading to the band splitting up, like the movie suggests, is not correct either. After Hot Space, in 1982, all Queen-members do their own thing for a while. Both Taylor and May record solo albums (the latter with Eddie van Halen). Mercury too, that's true. Mr. Bad Guy is released in 1985, two months before Live Aid. During this period, Queen records The Works as well, so the band splitting up could not be further from the truth. During a concert at Wembley, Mercury addresses the rumours about the band splitting up. "They are talking from here" , he says while turning around and sticking his butt out.
Watch the original footage of Mercury saying "They are talking from here" below.
12. The band does not fully share credits until The Miracle
In the movie, during the rehearsals for Live Aid the members of Queen tackle a problem they have been dealing with for some time. They decide that, from now on, they will share the credits for all new songs. Until then, the question of credits had been a bone of contention for the band. Take the B-side to Bohemian Rhapsody. Roger Taylor wrote that song, I'm in Love with My Car, and therefore received just as much royalties as Mercury, who wrote the A-side. The other Queen members May and John Deacon got nothing. The discussion happened, but the chronology is off here as well. Not until the album The Miracle, released in 1989, do the Queen-members share the credits. On A Kind of Magic, released in 1986, they only share the credits for the song One Vision, which was partly inspired by Live Aid.
13. Mercury's assistent got fired for a completely different reason
A good story requires a protagonist, but also an antagonist. In Bohemian Rhapsody, the antagonist is Paul Prenter, at first the aid of manager John Reid, later Freddie's personal assistant. In the movie he fails to mention that Queen has been asked to perform at Live Aid, reason for Mercury to fire him. Prenter indeed got fired, but not in 1985, and not for that reason. He threw a party at Mercury's house in Kensington and left the house in such a mess that he had to go. Him giving a sensational interview to The Sun shortly thereafter, revealing many details about Mercury's private life, is correct. Even though that happened in 1987.
14. Light-eyed Mercury
The movie deserves a great deal of credit for going out of its way not to misrepresent reality. Truly spectacular is the way the Live Aid stage was reconstructed. The Queen members' extravagant outfits have been recreated down to the smallest detail as well, and even include Roger Taylor's socks. It is therefore striking that leading actor Rami Malek, who is praised globally for his portrayal of Freddie, doesn't wear dark contact lenses. His teeth, hairdo and moustache were changed to resemble those of Mercury, but he kept his own light-colored eyes.
15. Jimmy Page or Brian May?
One of the trailers, not the actual movie, shows Brian May playing his guitar with a violin bow. May was horrified when he saw it. "That is a Jimmy Page thing (guitarist with Led Zeppelin)," he recently said. "I never did that."
Watch the fragment in question below.
16. Ray Foster is fictional
Mike Myers plays EMI boss Ray Foster in the movie. He never existed. In the movie Foster refuses to release Bohemian Rhapsody, which lasts almost six minutes, as a single. It is no coincidence that Myers plays this role. In 1992, he plays one of the main characters in Wayne's World.  In the opening scene, Wayne and his friends are sitting in a car when Bohemian Rhapsody comes on the radio. What follows is an iconic headbang scene, which results in the Queen song ending up in the American music charts once again. The director had a Guns N' Roses song in mind for the scene, but Meyers refused to participate without the Beëlzububs , Galileos, Figaros  and  Magnificos .
17. Songs are heard in years when they are not released yet
Finally, some songs are used at curious moments in the movie. At home on his piano, Mercury plays Lazing on a Sunday Afternoon when Queen's first album has yet to be released. The song is on Queen's fourth album, A Night at the Opera. Another One Bites the Dust (1980) , the best selling Queen song of all time can also be heard at a strange moment, when it is actually the time of Hot Space (1982) in the movie. 
But hey, what does it matter? It's not a documentary that's supposed to be historically accurate, it's a movie. And a very succesful one at that, just like so many Queen albums. Critics often didn't like them, but they sold like hot cakes. In fact, Greatest Hits I is the best selling album of all time in England, where 1 out of every 3 households owns it.
Did I get anything wrong in this article, or did I leave something out? Please tell me by leaving a reaction below.